On Your Wedding Morning....
You need a Hair & Makeup Artist who will
- Show up early, with a smile ready to make you feel amazing!!
- Be a calming energy and create a nice relaxing vibe
- Be organised and efficient without making you or your loved ones feel rushed
- Make all skin tones and hair types look and feel beautiful
-Perfect every last detail of your look with the same attention as big fashion campaigns and celebrities
Your experience with me I can guarantee...
- I only take 1 wedding a day, ensuring I can be with you right up until you leave for your ceremony
- I won't be rushing off to any other jobs. I am fully focused on you and your bridal party.
- With years of experience in planning wedding mornings you will receive a detailed schedule which I always stick to and can bring extra artists to make sure you don't have to start too early
- Touch ups for everyone booked in with me are planned into the morning so even the first client will feel as fresh before they leave as the last.
Perfecting Every Detail
From your perfect winged eyeliner to the intricate flowers in your updo. I take the ultimate care to make your look not only wedding ready but picture perfect!!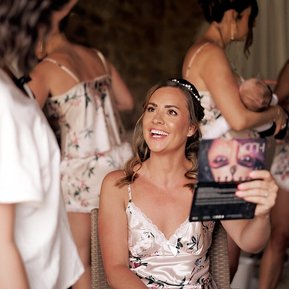 The emotional reveal!
There's nothing I love more than seeing the look on my beautiful brides face when she sees her final look all coming together on the day. These moments are priceless!
Does this sound like I'm the right Hair & Makeup Artist for you??
Then what are you waiting for?
I'll make you look and feel every bit the star that you are.
With my diary open 18 months in advance get in ahead of time to make sure I get your date secured!!
I look forward to hearing from you xx
a little bit more about myself.....
Hello, my name is Ruth and I am an experienced and well-travelled makeup artist with over 15 years of experience. I am based in Ibiza and also work in London, offering makeup services for weddings, photoshoots, and video production. I began my career in Manchester, working on TV commercials, shows, and fashion shoots across the UK before taking my skills to the sunny shores of Ibiza.

My career has also taken me around the world, from Australia to New York, Paris to London, and most recently Cape Town, giving me the opportunity to work on a variety of projects and keep up with the latest trends and techniques in the global makeup industry. You can see my media work here www.rmpmakeup.com
As a makeup artist, I specialize in creating natural, radiant looks that enhance a person's natural beauty rather than masking it. I understand that every person is unique and I work closely with my clients to create a look that is tailored to their individual needs and preferences. Whether it's for a wedding, photoshoot, or video production, I have the skills and experience to make my clients look and feel their best.
In addition to bridal makeup, I also offer makeup services for bridesmaids, mothers-of-the-bride, and other members of the bridal party. I can also provide makeup lessons for those who want to learn how to do their own makeup for the big day.
If you're planning a wedding or photoshoot in Ibiza, I would love to work with you to create the perfect look. Contact me today to schedule a consultation and let's make your wedding day or shoot dreams a reality.
: info@madeupinibiza.com
: 0044 7868736157
Call 0044 7868736157 or email info@madeupinibiza.com for a quote.